Roopa Pemmaraju Spring Summer 2012/ 2013 at MBFW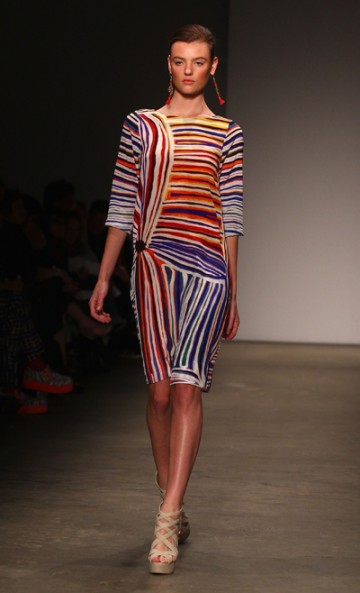 I worked for Roopa Pemmaraju back in 2010, while I was studying at Melbourne School of Fashion. When I first saw her work, I was drawn to her colourful prints, intricate beading and designs, inspired by the traditional dress and culture of her homeland of India.
At the beginning of this month, Roopa debuted her spring/summer 2012/2013 collection at Mercedes-Benz Fashion Week in Sydney. Her collection blew me away! Collaborating with Coo-ee Aboriginal Art Gallery, Desert Designs and Warlukurlangu Artists Aboriginal Corporation, she designed a resort collection combining original artwork from incredible Aboriginal artists, including Jimmy Pike, Judy Napangardi and Shanna Napanangka Williams, with beautiful handmade Indian fabrics.
This is a wonderful collaboration, celebrating not only the work of Roopa but Australian indigenous artists, showcasing their craft on a new platform to an audience that perhaps wouldn't see their talent otherwise. Moreover, the communities of the artists will receive 20 per cent of the price of each garment.
What a fantastic idea, and hopefully one that will have a global impact on fashion in the future.
See a handful of her spring/summer 2012/2013 collection below, I'm sure it will blow you away as well!
Lei xx